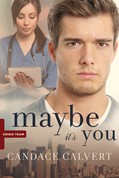 Rating: 4/5
Maybe It's You is the third installment in Candace Calvert's Crisis Team series. This novel continues Sloane Wilder's story as she moves to a new city and tries to settle down despite her dangerous past. Barely healed from a serious car accident in San Diego, Sloane moves to LA, changes her name, finds a job as an ER nurse, and immediately gets to work hiding from the men that nearly killed her in San Diego. She diligently keeps herself isolated to maintain her safety.
Until Micah Prescott enters her life. Working to save LA Hope's image, Micah creates an ad campaign to find the "face of Hope" to represent that hospital's new image. When Sloane saves a would-be kidnapping victim in front of a crowd in the hospital parking lot, Micah receives a nomination for Sloane to be the "face of hope." But, the more Micah gets to know Sloane, the more curious he is about this kind woman.
Zoey Jones is caught up in a life she doesn't know how to escape. When she meets Sloane, she's shocked at her kindness. But, through a series of violent, Russian-connected crimes, Zoey finds herself in serious danger. When Cooper Vance, a thorough journalist, uncovers some of Sloane and Zoey's pasts, Sloane's life in LA is shaken.
Maybe It's You is threaded together with the theme of second chances. Are they really available for everyone? Does grace really exist? Sloane questions these things often. With her past, is forgiveness really possible? My favorite thing about the Crisis Team series has been the themes that are present in each book. Even though the story line deals with terrible, difficult things, Calvert still manages to point her characters back to God.
The characters are developed with complex depth that leaves readers wanting to know more about them. The plot, a continuation of the previous novels in this series, has many twists that ultimately lead to a satisfying conclusion. Overall, Maybe It's You has all the necessary elements for a great piece of Christian fiction: characters with depth, an exciting plot, and a wonderful theme of grace.
I received a copy of this book from Tyndale House in exchange for this honest review. All opinions are my own.