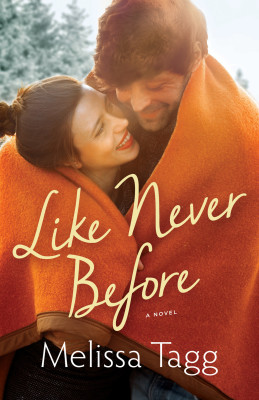 Rating: 5/5
Remember those types of books that made you fall in love with reading in the first place? The books that draw you in and break your heart when they end? For me,
Like Never Before
was one of those books.
Amelia Bentley ended up in the small town of Maple Valley, Iowa in search of someone she never found, but decided to stay there anyway. She started working at the
News
as a reporter and fell in love with everything about her new home; the quirky town events, the long winters, and especially her job. Maple Valley provided a refuge from the past she ran from.
Logan Walker grew up in Maple Valley but left the small town life behind when he and his wife moved to Los Angeles for work. When Logan's wife dies, he is left to raise their adopted daughter on his own. As a speech writer, Logan is kept busy with political campaigns and rarely has time to spend with his daughter. That is, until he unexpectedly inherits something back in Maple Valley and is forced to return. When he returns to his dad's home in Maple Valley, it's almost like he never left. He and Charlie, is three year old, are surrounded by his large family.
Logan hopes to sell the newspaper he has suddenly inherited, but a few complications means he needs to stay in town longer. While spending time getting the paper ready to sell, something even more unexpected than inheriting the paper happens: he realizes he's falling for Amelia before he can even stop it. But with his pending departure, both Amelia and Logan are hesitant to admit their feelings. Will Logan really just pack up and return to LA when his work in Maple Valley is finished? That question crushes Amelia, but she knows it's her fault for getting so attached. How will the two of them be able to move on after the rough pasts they've both endured?
Like Never Before
is so much more than a lighthearted piece of fiction, though, it is that, as well. This story explores themes of restoring relationships and trusting God to guide you in making decisions. A special emphasis is placed on reminding Amelia she can heal from her difficult past with God's help, even when her faith feels weak. The characters are so carefully developed that is makes reading about them like peeling an onion one layer at a time. Just when readers think they've figured a character out, something deeper will come to light. The plot of this story is sweet, romantic and nicely paced.
Like Never Before
will have readers wanting to hop on a plane to go explore small towns in Iowa. Melissa Tagg has done a wonderful job crafting this story.
Melissa Tagg blogs at melissatagg.com. Be sure to pop over there to get to experience more of her writing!
I received a copy of this book from Bethany House Publishers in exchange for an honest review.