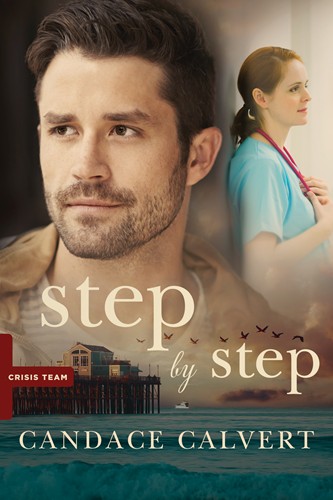 Step by Step
is the second installation in Candace Calvert's
Crisis Team
trilogy. In a Q&A, Calvert said this about the series: "The Crisis Team series, set in my native California, offers exciting medical scenarios within the fictional Hope medical system, and features the selfless and compassionate work of volunteer community chaplains—true heroes."
Taylor Cabot, a nurse and widow, has one thing on her mind as the three year anniversary of her husband's death approaches--survival. She has dutifully been checking things off her "Survival List." She feels like she finally has control of her life. She moved from Sacramento to San Diego, got a job at the same hospital as her cousin, and has even become friends with Dr. Rob Halston, a plastic surgeon in the same hospital.
Chaplain Seth Donovan volunteered to lead Crisis Team training in San Diego because it was a part of his job. The fact that it meant spending a few weeks in the same city as Taylor Cabot was just a bonus. He has been worried about his old friend and wanted to check up on her. Taylor had stopped volunteering for the Crisis Team, and Seth needed to find out why. It was important to him that Taylor not quit.

Just when Taylor had thought she had everything worked out in her life, her beloved dog, Hooper, begins to get sicker and sicker. When secrets regarding Taylor's husband's death emerge and threaten to derail Taylor's survival list, Taylor is forced to accept the fact that she cannot control every aspect of her life. A tragedy in the community leads Taylor to lean on both Seth and Dr. Halston more than ever before. In the midst of pain and the need to forgive, Taylor must decide which friend should become more than a friend.
Step by Step is a riveting story that paints a picture of what it truly means to give up control of our lives and let God lead our steps. When we realize that we can't survive anything without God, we are able to accept the path God is leading us down. After learning heartbreaking secrets of her deceased husband's past, Taylor is forced to make a real effort at forgiving the one person she'd rather never talk to again. As Taylor walks through this trial, readers connect with the pain and are amazed at the love displayed.
Overall, Step by Step is an entertaining, suspenseful story that boasts well-developed characters, a beautifully written plot and a central theme of letting go and giving God control.
Step by Step comes out February 1st. You can preorder it now on Amazon.
I received a copy of this book from Tyndale House Publishers in exchange for this honest review. All opinions are my own.